On August 18th, the delivery ceremony of Hua Xiang Long, China's first pile-inserted salvage engineering platform, on which CCS conducted the plan review and construction survey, was held at Longxue Shipbuilding Base in Nansha District, Guangzhou.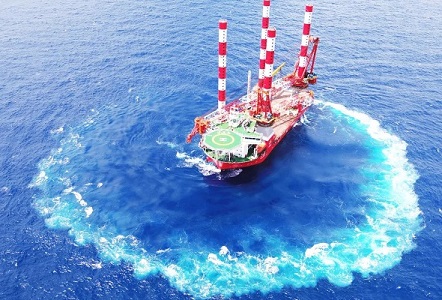 As a key offshore project of CCS, Hua Xiang Long is equipped with the 5600-ton leg hydraulic lifting system, the leg encircling crane with a maximum lifting capacity of 1200 tons, the helicopter landing platform, the DP2 dynamic positioning system, seven main diesel engines meeting IMO TIER III requirements, three 3800 kW full-revolving main propellers at the stern, and three 2000 kW lateral thrusters at the bow for navigation and operation. The platform is fully electric driven, with autonomous lifting capability, floating lifting capability and a maximum operating water depth of 50m, which can be used for emergency fishing operations, or the installation and maintenance of fans under offshore wind farms and other operating conditions. The smooth delivery of the platform has added new force to China's rescue and salvage works and offshore wind power installation operations.
At the initial stage of the project, CCS Offshore Engineering Technology Center provided pre-contract services and technical support to ship owners and design units, and actively participated in the discussion and preparation of design schemes. During the design review stage, the Offshore Engineering Technology Center organized technical experts to set up a plan review team, specifically responsible for the drawing review of Hua Xiang Long, and reached an agreement on relevant technical issues before submitting for review and during the plan review process, so as to streamline the subsequent repeated exchanges of written comments. To tackle the design difficulties such as crew cabin certificating, main vertical zone setting, aluminum helideck and ice strengthening, the Offshore Engineering Technology Center also dispatched technical teams to the design company for technical support.
During the construction survey stage of Hua Xiang Long, Nansha Survey Office of CCS Guangzhou Branch appointed Zhu Xiaolin and Yan Changlu as surveyors to fully follow up the project. Facing numerous equipment and urgent tasks, they were on standby 24 hours a day during one and a half years of survey, and fully cooperated with the survey progress of the shipyard. When encountering technical problems in the construction of the project, such as thick wall of pile leg hydraulic pipes, difficulties in flaw detection, and cracks in welding of wear-resistant plate of pile legs, Zhu Xiaolin and Yan Changlu exerted their utmost to help shipyards and ship owners to tackle the tough problems, provide strong technical support, assist in the one-time passing of many key survey items including inclining experiment, ship trial, crane load test, etc., and ensure the smooth delivery of the platform.
Note: If you need to reprint, please indicate the source of the information.